Join us for an amazing music-filled weekend in New York City with David Phelps.  A master class at Ripley Grier Studio, Sunday Morning Services at Brooklyn Tabernacle, and an intimate evening at The Green Room 42 — read on for more details…
September 23rd, Master Class at the Ripley Grier Studio's 11am.-5pm.
Don't miss this special opportunity to see David lead a Vocal Master class with Jeff Alani Stanfil in New York, New York.
Very limited space is available so register today at www.voicesoaring.com.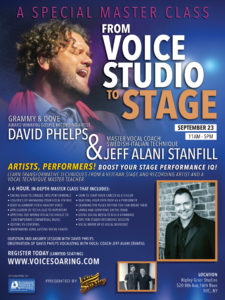 September 24th Brooklyn Tabernacle.
David will be performing in each morning service at the amazing Brooklyn Tabernacle.  If you haven't had the worship experience at Brooklyn Tab it's definitely something you don't want to miss.  Admission is free and so will be your soul!  For information click here:  David Phelps @ Brooklyn Tab.
September 24th The Green Room 42
Located in the heart of the theatre district, The Green Room 42 is Broadway's newest, most spacious, and funkiest entertainment hall. A rare opportunity to see David perform in an intimate club setting. Limited number of tickets here:
SaveSave