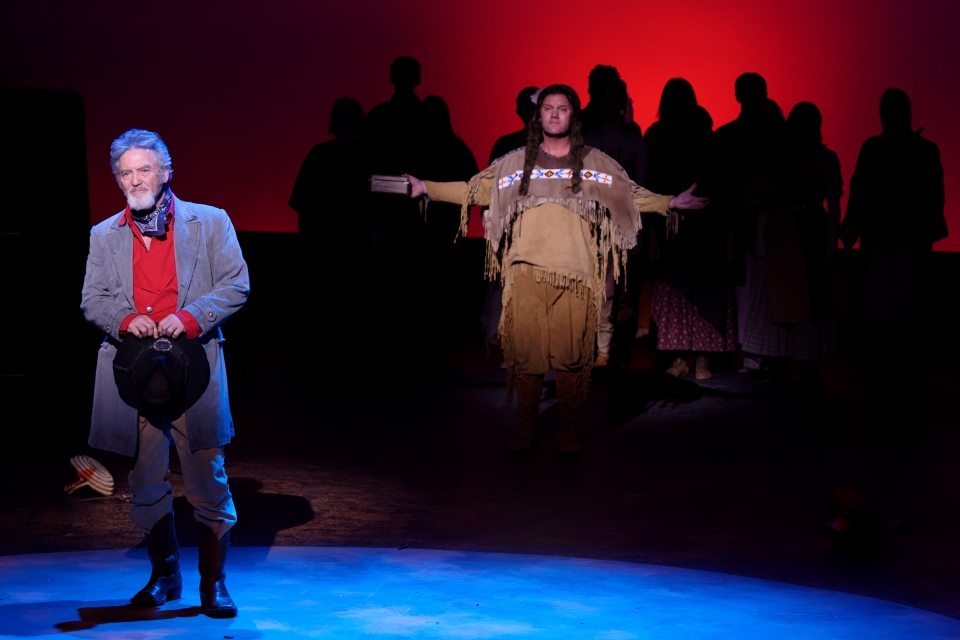 LYRIC STAGE PRESENTS THE WORLD PREMIERE OF LARRY GATLIN'S QUANAH
Musical Written by and Starring Country Music Legend Larry Gatlin to be Featured April 28 – May 7, 2017 at the Irving Art Center Carpenter Performance Hall in Dallas, Texas.
Tickets On-sale Now at www.lyricstage.org or by Calling the Box Office at 972-252-2787
Nashville, Tenn. (March 1, 2017) — Quanah, the Parker Family Saga, is a new musical written by Grammy Award-winning country music legend Larry Gatlin. It is the story of Quanah Parker, the last Comanche chief, his mother Cynthia Ann Parker and the Parker Family settling in Texas and the survival and ascendancy of the great Comanche people. It is, in part, a tragic, sad, heartbreaking story – a story of war, bloodshed, death and heartbreak – but it is, more importantly, a story celebrating the strength and power of the human spirit. Gatlin's wife Janis – who says he is never wrong – believes that it is the best music he has ever written.
Gatlin says, "as a kid in west Texas, I always had a vivid imagination and I loved to make up stories with which to entertain my friends and playmates. For the last 30 years, as I have grown into an old coot, I have allowed my vivid imagination to run wild, much like Quanah Parker, the last Comanche chief. I invite you to come join us… use your imagination and let our wonderful cast, orchestra and crew tell you this incredible story."
"Almost 20 years ago, when I heard the background vocals on my solo gospel album, In My Life, I asked Mike Smith, the producer of the album, 'who are those people singing the background vocals?'" notes Gatlin. "He said, Tanya Goodman Sykes, Michael Sykes, and some kid named David Phelps. I said, 'Wow, that is the best vocal sound I have ever heard that wasn't sung by someone named Gatlin.' A couple of years later I heard David Phelps sing with the Gaither Vocal Band and I said to myself, 'he's the greatest singer I have ever heard.' It was true then and it is true now. It is truly a God thing that David is going to play the double role of Quanah and Peta in our new musical. I thank God. I thank David Phelps. And I thank my old and dear friend, Bill Gaither, for making this happen."
Multiple Dove and Grammy Award-winning artist, David Phelps is Quanah. Gatlin will play Old Ranger. The supporting cast includes Brett Warner as Lucinda, Lauren Scott as Cynthia Ann, Daron Cockerell as Nauda, Sony Franks as McKenzie and Tim Brawner as James Parker.
Other supporting roles and members of the ensemble are played by Abigail Gardner, Jonathan McGinnis, Teresa Natera, Ian Moore, Angela Davis, Jamal Houston, Mindamora Rocha, Michael McMillan, Alison Wheaton, Steve Sifford, Shelbie Mac, Caitlin Galloway and Mindy Bell.
Quanah composer Galen Butler conducts the Lyric Stage Orchestra with direction and choreography by John De Los Santos.
Performances are April 28 and 29 and May 4, 5, and 6 at 7:30 PM and April 30 and May 6 at 2:30 PM in the Irving Arts Center Carpenter Performance Hall in Dallas, Texas.
Tickets on-sale now at www.lyricstage.org or by calling the box office at 972-252-2787.
About Larry Gatlin
The close family harmonies of Larry Gatlin & the Gatlin Brothers have given the trio a signature sound that led to country classics like "All The Gold In California" and "Houston (Means I'm One Day Closer To You)." Larry, and brothers Rudy and Steve, won a GRAMMY® for their 1976 breakthrough hit, "Broken Lady," and reached #1 with several other songs soon thereafter. Along with five career nominations for the ACM Vocal Group, the Gatlin Brothers picked up three 1979 trophies – Single of the Year ("All The Gold In California"), Album of the Year (Straight Ahead) and Male Vocalist of the Year for Larry Gatlin. Larry Gatlin has written songs that were later recorded by Elvis Presley, Glen Campbell, Barbra Streisand, Johnny Cash, Kris Kristofferson, Charlie Rich, Dottie West and more.
For more information on Larry Gatlin, visit www.gatlinbrothers.com
About David Phelps
Born In Dallas, raised in Tomball, Texas and now living in Tennessee, David Phelps graduated Baylor University with a music degree in vocal performance. David entered the Billboard charts at No 1 with his Classic DVD in 2012 and his Freedom DVD in 2015. Multiple Dove and Grammy Award winner Phelps has performed at the world's leading venues from the Sidney Opera House to the White House.
For more information on Phelps please visit his website at www.davidphelps.com.
About Lyric Stage
Dedicated to the development and preservation of the American musical, Lyric Stage is Dallas County's only locally produced, professional musical theater company.
Under the leadership of Founding Producer Steven Jones and Associate Producer Shane Peterman, it has become North Texas' most honored theater, winning 35 Dallas Theatre League Leon Rabin Awards and a special citation from the Dallas Theater Critics Forum for excellence and innovation. Lyric Stage has produced 20 world premiere musicals and two Off-Broadway productions.