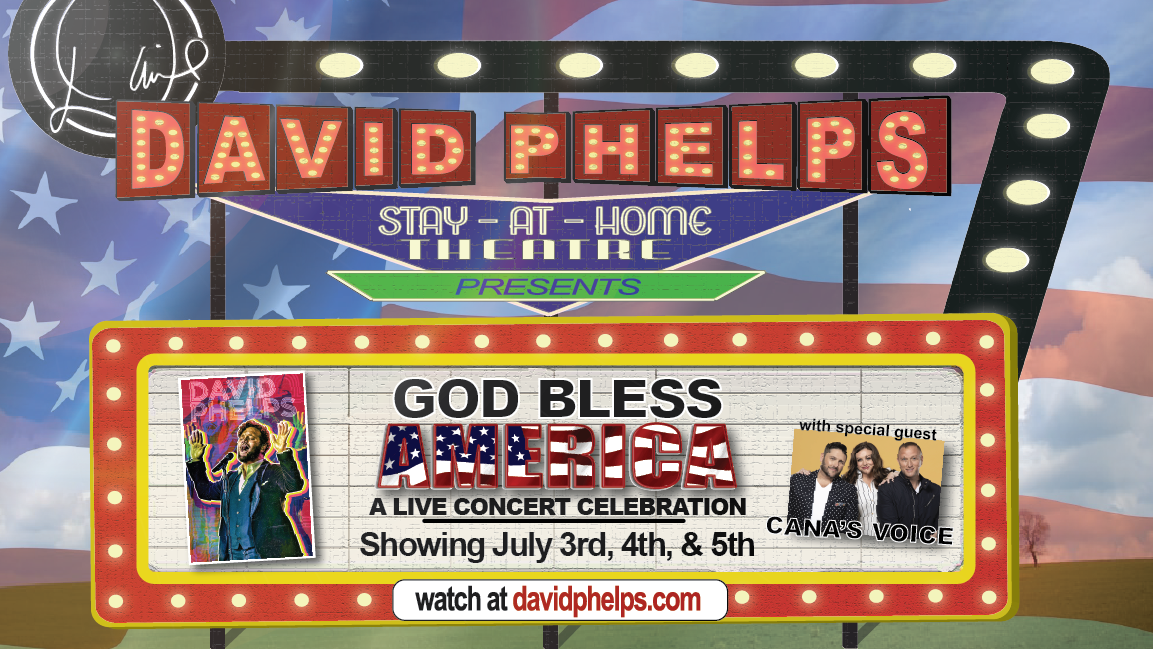 Join us all weekend for a
God Bless America! Live Concert Celebration
By popular demand we are bringing you another live event at davidphelps.com!  Thank you for all the many wonderful emails and social media comments after our last event.  We are grateful that we had many people asking us to do another one.  So, grab a sparkler and gather 'round for this limited time concert event.
Here are a few notes to help you have a great viewing experience!
1.  This video is open to viewing an unlimited number of times for a 60 hour period from 12:00pm (noon) on July 3rd to 11:59pm (CDT – Nashville time) on July 5th, 2020.
2.  VERY IMPORTANT!  Please make sure to double-check that your email address associated with PayPal and/or Authorize.net is entered correctly and that you have access to that address so that you are able to get your receipt for viewing.  Your password will be on your receipt.
3. Upon purchase of a ticket to view the concert, a singular password will be emailed to the address you entered during the purchase process.  To view the concert, simply enter the password into the password field and press play.
4. The ability to stream the concert is solely dependent on each individual's local bandwidth capability.  Our video has been optimized for streaming video over internet.  If you stream other videos, you should be able to stream ours.  Please note that we have no control over your local internet capacity.  Streaming may need extra buffering time if your internet bandwidth is limited.  If you have low bandwidth at your location, we recommend disconnecting all other devices accessing the internet for optimal viewing.   Please contact your internet provider for further assistance.
Thank you for joining us for our God Bless America! 

live concert celebration. 
Donations  – follow this link to make a donation to David Phelps Concerts.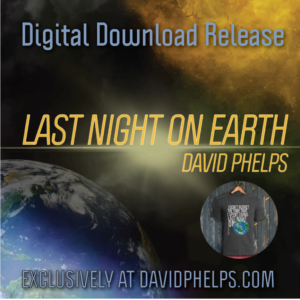 Last Night On Earth
Digital Download Release: Friday, April 10th, 2020
Visit Barn & Bale to download David's new single release, Last Night On Earth, and don't forget the shirt to match!  Exclusively available at Barn & Bale.